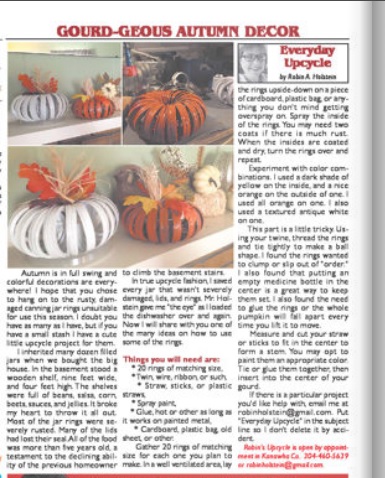 This months Everyday Upcycle column is on making pumpkins from canning jar rings! Continue Reading →
I completed the upcycle coat rack Sunday. I really enjoyed working on it. There is something cathartic about hanging in the garage, working on stuff.  I get that from my Dad.
Dad gave me some space in his garage to work on my upcycle projects. It was getting tough to work on the back porch. The wind blowing interfered with my painting, and of course rain could stall me for days. So, I was glad to get a bench of my own out there.
Now, I'm working on a bench. I am removing the paint from an old frame (taking longer than I anticipated) and will either stain and clear coat or paint, then affix a seat. I hope to find a good cushion for it as well. Then, on sale it goes!
Here is a picture of the coat rack.
I don't have a gallery, so the image is dark. Maybe that will change by winter.