Sometimes you just need a cute little decoration. This one is perfect for a summer party, baby shower, or get well token.
There is nothing difficult about this little project. I use a simple glass dessert cup. It was once part of a set that long ago was split up, whether by damage or loss, I don't know.
Gather up some artificial flowers. I have scads and oodles of flower scraps from purchasing sets and splitting them up to make arrangements. Here I use white and pink carnations to imitate vanilla and strawberry ice cream.
Hot glue a piece of floral foam to the bottom of the dessert cup. Trim the flowers short and insert them tightly into the foam. I layered mine in alternating colors.
Hot glue a red felt "cherry" on top, and insert a spoon on the side. Easy, peasy, simple as pie.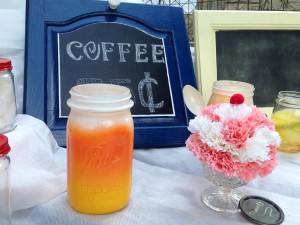 By Robin Holstein
Robin's Upcycle is located in Kanawha County, WV. Open by appointment.
Phone 304-460-5NEW (5639).
For info, visit facebook.com/robinsupcycle