Here is an upcycle project you can work on that will make use of your old denim, or other heavy fabrics, and save a little energy, too.
We are making a fabric pouch that will mimic a slow cooker, using no more energy than it takes to simmer food for 20 minutes. It is a fun idea for camping, for cooking during summer's heat, or to simply consume less energy overall.
You need:
A dedicated pot with lid (I used a standard Dutch-Oven.)
6-8 pair old jeans (The exact number will vary)
2 – 2 ½ yards InsulBriteTM insulated batting
2 bandanas or 2 sq ft of other fabric.
Rope, ribbon, or twine
Measure your pot, lid attached, from the center bottom, up the side, to the center of the lid. Add two inches. This is the radius you will use when trimming your fabrics.
Cut the pant legs off and split each at one seam. Piece together denim in order to make two squares of fabric large enough to cut your circles. If you opt for something other than jeans, make sure the fabric is tough and will resist high heat.
Cut InsulBrite to match both the fabric squares and bandana top.
Sandwich the denim right-sides facing, with insulated batting in between. Pin together in several places, including the center. Using chalk, or anything that won't stain through the fabric, scribe a circle using the measurement taken earlier. Cut through the layers making three circles.
Deciding how to close your pouch will dictate your next step. You might choose to hem a seam for rope, create loops for ribbon, or reuse the waistbands with the belt-loops to thread fabric through. Regardless of your choice, decide before sewing the layers together because they each attach differently.
Pin the bandanas together, wrong side out, and sew on three sides. Turn the fabric right side out and insert the small square of InsulBrite. Stitch the bottom closed.
Place your pot in the pouch, cover the lid with the top, then tie shut.
Using your pot pouch.
Bring your food to a boil in the dedicated pot. Turn the heat down and simmer for 20 minutes. Remove from heat and place the pot, lid on, in the pouch, put the bandana cover over the top, then close the pouch.
The first meal I fixed was a cabbage based vegetable soup with brown rice. After eight hours, the soup was still warm, but the rice was still crunchy. The cabbage, carrots, and celery were all nicely cooked. I may try chili next. Do not cook meat dishes without precooking the meat.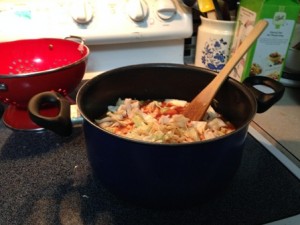 Robin's Upcycle is located in Kanawha County, WV. Open by appointment. Phone 304-460-5NEW (5639). For info, visit facebook.com/robinsupcycle