This is one of my two favorite upcycle projects so far for autumn! 
This is a simple project using an old cabinet door to create an cute message board / chalkboard.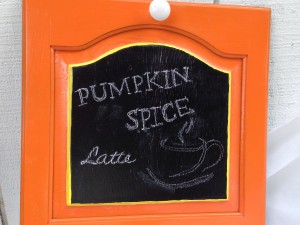 What you need:
Cabinet door
Hanging hardware
Knob
Sanding sponge
Paint
Chalkboard paint
It is hard to tell from the photo but this is a small cabinet door, most likely from an above stove cabinet. Use a medium grit sanding sponge to clean off the finish from the wood. This allows the paint to adhere. Clean the dust off with a damp cloth.
The hanging hardware I used was something I already had on hand. You may find something like this at a box store if you need to purchase it. As long as it is rated for the weight of the door you can use just about anything.
Use blue tape and newspaper to mask off the message area. Paint the perimeter and let dry. I used spray paint for the large area, and trimmed with acrylic paint.
Remove the blue tape and newspaper. Paint the message area with chalkboard paint. I used two coats. Prime with chalk, affix the decorative knob, and tie a piece of chalk on with twine.
There you go!
I love these little projects! I wish I had room in my house for all of them.
By Robin Holstein
Robin's Upcycle is located in Kanawha County, WV. Open by appointment.
Phone 304-460-5NEW (5639).
For info, visit facebook.com/robinsupcycle