I LOVE my coffee! High test with a little cream. It lights up my life.
I've tried a lot of coffee options in my life. While a percolator was in the home as I grew up, my real consumption began with the Mr. Coffee drip coffee maker.
The Mr. Coffee was probably the first successful drip coffee brand. I remember a white plastic machine sitting on my Grandmother's kitchen counter, on top of a black enameled serving tray. It had a clock and an automatic start option so you could set it to kick-on when you wanted. My grandfather read an article about some catching fire so he always unplugged it at night.
I drank coffee on occassion during my early adulthood. Coffee was an extravagance for a newlywed couple living off-post on an E-3's pay. We drank a lot of true generic, black-and-white label soft drinks, iced-tea, and Kool-Aid. Every now-and-then I'd splurge on a $3 can of flavored instant coffee.
I really started my heavy consumption during the six weeks I lived with my parents when my first husband and I returned home from Ft. Hood. Our son was just six weeks old. We were trying to get an old rental of my Dad's cleaned up to live in. Dad is also a coffee junkie and we'd drink coffee in the mornings together.
Fast forward past the various types of drip machines, from the generic to the Bunn. This past weekend we had an Airbnb guest who roasts his own coffee. As he and his wife were leaving I mentioned Tamarack and a popular coffee chain in the rest area. He said their coffee tastes burnt, and that was that.
Now I have a Corel six-cup percolator on the stove perking up a cup of joe. I also have a small coffee roaster and green coffee beans on order.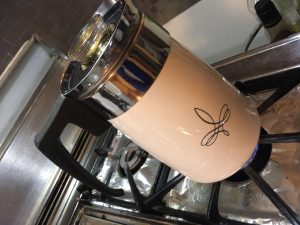 Have you ever roasted your own coffee beans? How'd that turn out?