AirBnB is my newest side hustle obsession! It combines an opportunity to help someone out while earning a little extra cash.
I do admit the AirBnB image is a little more … shall I just say liberal … than my lifestyle is. Reading the successful hosts' profiles and their stories I see a significant number of them are artists. They are painters, musicians, photographers, artistic and socially aware. (Do they know they are also capitalists?)
Eh. I don't mind. I have a spare room to make spare change with. It's a nice room, too. We've themed it a little throwback. The full size iron bed is covered with a quilt my mother-in-law made. Photos from the late 1940's to early 50's hang above the head of it. Masonite walls are painted a traditional shade of blue. The wood floors, original to the 1920's era home have been re-polyurethaned. Handcrafted soaps accompany the towels and other amenities set aside just for guests.
A television with digital over-the-air channels, and a Roku device are provided. Classic books, local magazines, and a cozy over-sized rocking chair will help visitors relax. Of course Wi-Fi is offered.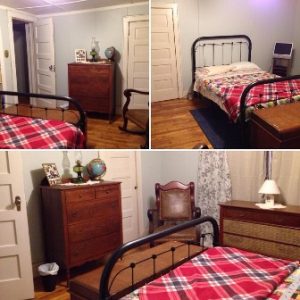 The plan is to provide coffee and a continental style breakfast as the only meal. I'm not a full service facility and there are six restaurants within a mile to choose from.
The biggest drawback is the house has just one bathroom. We may put a second in the basement but that will be a couple years down the road. Generations of folk have worked around one bathroom, I think we can manage.
The calendar is active, rates are set. Only those verified by AirBnB, meeting specific criteria are accepted. No long term rentals.