Oh! This is a FUN project! It's easy. It isn't too messy, and it is quick.
This upcycled snowman family is made of non-dairy creamer containers and pill bottles. What you need:
Non-dairy creamer containers
Pill bottles
Spray paint
Permanent markers
Acrylic paint
Simply remove any labels or stickers from your containers. Non-dairy creamer container labels are primarily shrink-wrap plastics. They tear off pretty easily once you get a small split started. Pill bottles may take a little more work.
Spray the lids black. If you want the females to have different colors knock yourself out. Use some glitter glue and acrylic paints to decorate the hats, or hot glue some accessories on.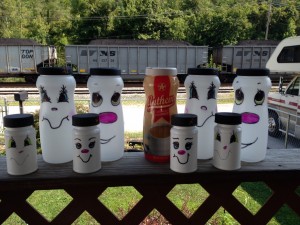 Since my containers are all white, I don't need to spray them with white paint. If your containers are not white, test your spray paint to see if it will adhere to your plastics. If not, get some plastic primer at the box store.
Use a variety of permanent markers to draw and color in facial features. I did use a dab of acrylic paints for some highlights and special touches.
By Robin Holstein
Robin's Upcycle is located in Kanawha County, WV. Open by appointment.
Phone 304-460-5NEW (5639).
For info, visit facebook.com/robinsupcycle