I started tinkering with dehydrating food about a year ago. I started with fruits that were close to becoming too ripe. It provided me a way to keep the fruit. Following the derecho of 2012, where areas of West Virginia went without electricity for two weeks, I decided to begin developing a way to survive disasters on my own.
Dehydrating food is becoming more common among folks, as a way to store food for convenience or emergency. Dehydrated vegetables take much less space, and last as long, or longer, than canned vegetables. My first dehydrator was a simple round machine purchased at Harbor Freight. The primary drawback is the lace of temperature settings. But it is a fine machine to start out with or use.
Vegetables must be cleaned, prepared, and blanched before dehydrating. You can find directions in the paperwork accompanying your dehydrator, online, from your local extension agent, and many older cookbooks. Frozen vegetables, however, can go from freezer to dehydrator.
Dehydrated vegetables will fall through the slots of the dehydrator tray. Lining the tray with cheesecloth allows for air circulation and keeps the small items where they belong.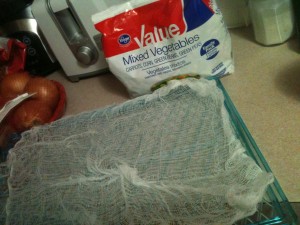 Spread the frozen vegetables in a single layer. I find one bag needs roughly two trays.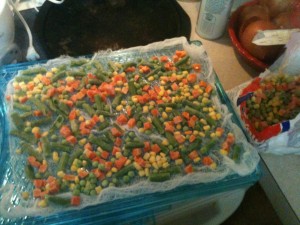 Check your machine settings and you are on your way. Keep an eye on your vegetables. Even with more expensive models, I sometimes still have to rotate trays to keep things drying equally.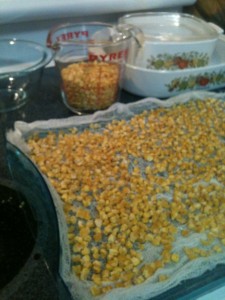 Dehydrated vegetables should not be spongy. They should be hard, crisp, or brittle.  I store mine in vacuum food storage bags. I have a small, battery powered vacuum by Reynolds and I purchase Ziplock vacuum food bags. (This is not an endorsement of the brands, just a guide for you to use.)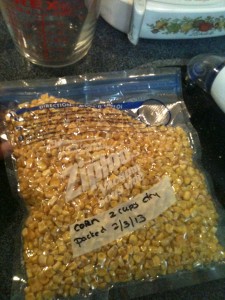 This method of storage allows me to keep food in case of power outage. It is easier to manage, and takes less space than canned food. It won't break if I drop it, either.
Dehydrating should supplement your food storage, whether for convenience, or emergency preparedness.