The downed tree saga continues. Mr Holstein and I spent all morning, from around 7:30 AM cutting and shifting the downed trees off the fence.
We started with the smaller limbs. Mr. Holstein using the saw to take off the little stuff, and I drug them to a spot several yards away. This enabled us to reach the larger branches that we hoped to drag down on the inside of the fence. If they roll to the outside, or the alley, we would have to cut them up in multiple smaller pieces and heave over the fence.
We wrangled one limb off the fence, the other ended up in the alley.
But, at any rate, it's only 1:00 PM and I'm worn to a frazzle. I still have to take Gracie and Jack to the vet for check-ups, vaccinations, and medication refills.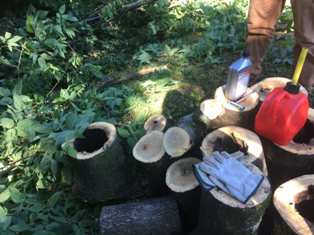 I now have one estimate on taking down the main tree; $1800-2000. Crazy, but will be worth it to have someone experienced and insured to do it.